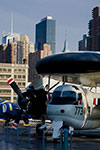 Intrepid Sea, Air & Space Museum: Priority Entrance
お値段 4137 ¥
Get up and close to the United States' military and maritime history at The Intrepid Sea, Air & Space Museum. Skip the line with prepaid tickets!

Highlights:
- Skip the line to the Intrepid Sea, Air & Space Museum
- See dozens of incredible aircraft
- Enter the diesel-powered submarine USS Growler
- Visit its command center and torpedo rooms
- Check out the many interactive exhibits
- Chat with veteran volunteers about their experiences behind enemy lines

Explore The Intrepid Sea, Air & Space Museum
The Intrepid Sea, Air & Space Museum is a battle-hardened aircraft carrier, which served in WW2 and the Vietnam War - and even assisted NASA during rescue missions.
Step aboard and see dozens of skillfully restored aircraft, including two Soviet MiGs, the supersonic A-12 Blackbird, and the actual Concorde. If that's not out-of-this-world enough for you, check out the Space Shuttle Enterprise.
The Intrepid also has the USS Growler , one of only two diesel-powered submarines armed with nuclear cruise missiles. Watch your head as you explore this underwater war-tube. Check out the crew's mess, the command center, and the two torpedo rooms.
History-lovers, science nerds, and people who love Top Gun and The Hunt for Red October will all find this place incredible!
Add One or Two Simulators

Get yourself an add-on and experience up to two totally unique simulators. With the simulator 'Stories of Intrepid', state-of-the-art computer graphics, historical footage, and 4D technology will all immerse you in a world of brave heroes. With the simulator 'Transporter FX', feel the wind around your polarized glasses as you judder your way through six minutes of adrenaline-pumping flight!

How do I get my tickets?
Shortly after your booking is complete your e-ticket will be sent to your email. Smartphone tickets are accepted.
What's included?
- Skip the line access to the Intrepid Sea, Air & Space Museum
- Access to the Space Shuttle Pavilion
- Access to the submarine USS Growler
- Access to one or two simulators (if selected)
What ticket types are available?
Senior (65+)
Adult (13-64)
Child (5-12)
Infant (0-4): Free of charge

All under age 16 must be accompanied by an adult.